Pitri Defect
When your ancestor goes into bad place (yoni) or any his lust is remaining or he did not get salvation or any lack in his funeral or ancestor was upset by his son or he is in hell and desires of his own salvation, then this appears as a Pitri Defect(dosh) in Son's horoscope. This defect is called Pitra defect or dosh. Priest tells about this Pitri defect by looking into the person horoscope.

Then person do some measures for peace of his ancestor or fulfill his left desire, so that his ancestor can get salvation. After that, his ancestor gets salvation and that person lives a happy life.

If son serves his father-mother when they are alive then there will be no Pitri Defect. Here, we are telling you some yoga and their measures.

Yoga: When Sun and Rahu sit together in horoscope at first(lagna) house or second, fourth, fifth, seventh, ninth or tenth house as shown in the below image then there is Piri defect(dosh) in person horoscope.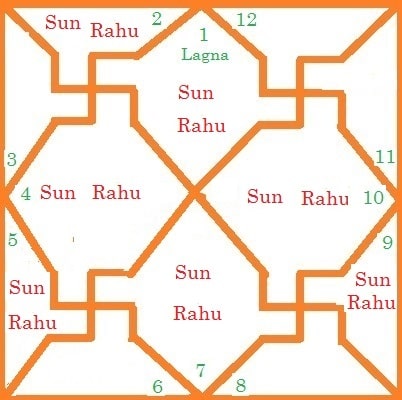 When Sun and Saturn sit together in horoscope at first(lagna) house or second, fourth, fifth, seventh, ninth or tenth house as shown in the below image then there is Piri defect(dosh) in person horoscope. PICTURE

When Rahu is in first(lagna) house as shown in the below image then there is Piri defect(dosh) in person horoscope. PICTURE

When Rahu is in eighth or twelfth house in horoscope as shown in below image then there is ghost-obstacle to person. PICTURE

When Jupiter is in eighth or twelfth house as shown in below image then there is Pitri Dosh in person horoscope. PICTURE
| | |
| --- | --- |
| | |
Important points of Astrology