Inhibiting Factor Planet
Many times it is seen that all planets are in the best position or in friend house in our horoscope but we do not get much success. Then we will have to know if any planet is not inhibiting our success.

If our horoscope planets do not helping us then we should understand that they are not working. That's mean any planet is inhibiting factor in our success. Due to inhibiting factor planet all other good planets are not helping us. When we will know this then we should worship those planets or get it done by any priest. So that all our work can complete and we get peace. Please donate something for those inhibiting factor planets.

We are mentioning here inhibiting factor planet for all Lagna horoscope, so that you can get peace by doing their worship accordingly.

Example: If first house(Lagna) in horoscope is of Aries then the owner of eleventh house is inhibiting factor. Your horoscope planets are good but you are not getting success after doing hard work then please do worship of eleventh house owner. Here owner of eleventh house will be Saturn, so please do worship of Saturn, burn deepak on peepal tree in evening and donate black things on Saturday.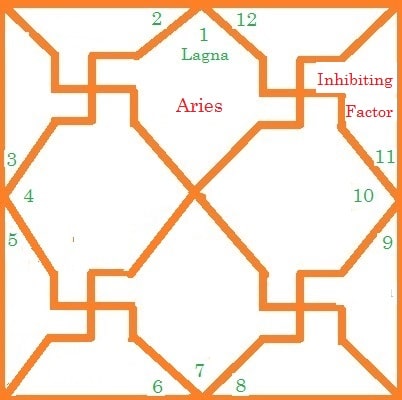 2 : If first house(Lagna) in horoscope is of Taurus then the owner of ninth house is inhibiting factor. Capricorn is in ninth house and its owner is Saturn as shown in the below figure. That's why if you are facing problems in your work then please do worship of Saturn, put mustard oil on him and read Shani Chalisa. PICTURE


3 : If first house(Lagna) in person horoscope is of Gemini then the owner of seventh house is inhibiting factor. In this Lagna, Jupiter is the owner of seventh house as shown in the below figure. If you are having trouble in marriage then please do worship of Jupiter. Please donate yellow items on Thursday and do chanting of Guru Mantra. PICTURE

4 : If first house(Lagna) in person horoscope is of Cancer then the owner of eleventh house is inhibiting factor. In this, the owner of eleventh house will be Venus. You are not much happy and lack of enjoyment objects. So, please do worship of Venus, read Lakshmi Chalisa and donate white things on Friday. PICTURE

5 : If first house(Lagna) in person horoscope is of Leo then the owner of ninth house is inhibiting factor. As per horoscope, this will be Mars. Due to this, you have to face quarrel with others. For peace, please read Hanuman Chalisa. PICTURE
Important points of Astrology